YAM Curriculum Resources 2017
YAM 2017 Flag Rubric  **NEW**
YAM 2016 NY Flag Lesson Plan.docx
Yam Bookmark Template 2015
YAM 2016 Art Builds Bridges Bookmark Lesson Plan
Follow our Pinterest Board
http://www.pinterest.com/cr8tive/youth-art-month-ideas/
LIKE us on Facebook & Twitter
https://www.facebook.com/YouthArtMonthNewYorkState?ref=bookmarks
YAM PR Templates and Proclamation/Endorsement Forms 2017
YAM 2017 Proclamation/Endorsement Certificate
YAM2017 Issuing and Using a Proclamation
YAM 2017 Sample Cover Letter
YAM 2017 Sample Certificate of Recognition
YAM 2017 Sample Cover Letter to Principal or School Superintendent
 YAM 2017 United through Art Logos To Use
YAM 2017 Logo Color (Square, Pictured above)
YAM Reporting Forms 2017
YAM 2016 Yam Reporting Form Directions

Even More New Ideas for 2016

State Ideas from 2012

YAM State Report Rubric
YAM Presentation from NYSATA Conference 2016
YAM Presentation from NYSATA Conference 2015
2015 NYSATA presentation Put Your YAM Event On Center Stage
YAM Awards
2016
Our YAM Program has received an Award of Merit for the 3rd time in a row.  Congratulations to all those that helped make it happen!
2015
Our YAM Program has received the 2015 Award of Merit! Thanks to your submissions documenting  YAM celebrations, New York State continues to be recognized for our outstanding efforts in the promotion of our Visual Arts programs on a national level. The award was presented at the 2016 NAEA Conference in Chicago in March March.
The annual scrapbook reports are judged on a rubric rating scale.
2014
At the 2015 NAEA Conference in New Orleans, Co Chairs Julia Lang Shapiro and Donnalyn Shuster received the Award of Merit for our 2014 YAM program in New York State.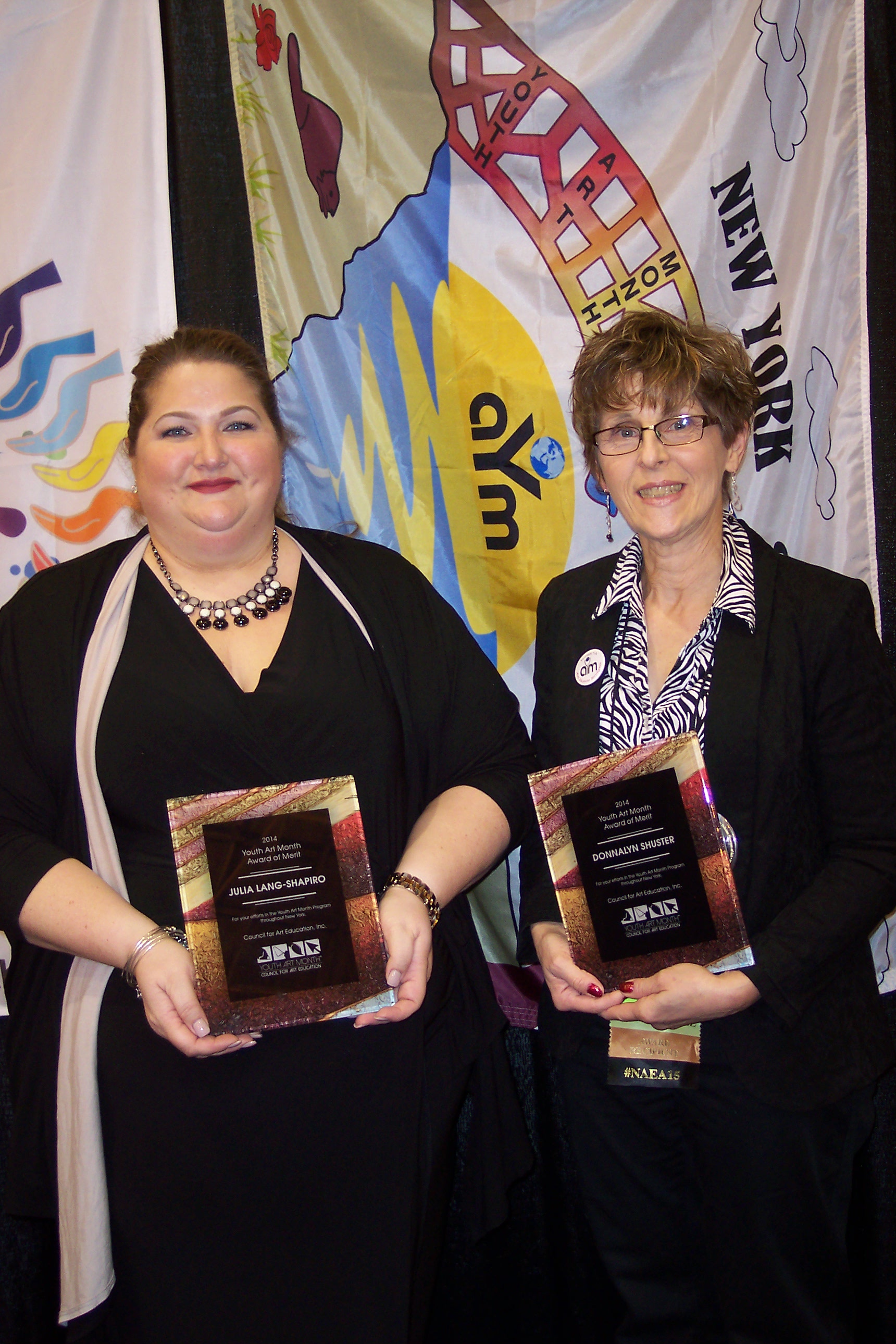 YAM 2015 cfae-youth art month awards press release 9-15-15 1.pdf
2014 Award of Merit Press Release
2013
In March 2013 our New York YAM Chairs were recognized at the National Art Education Association (NAEA) Annual Conference in Fort Worth with the YAM Award of Excellence. Congratulations to Donnalyn and Julia!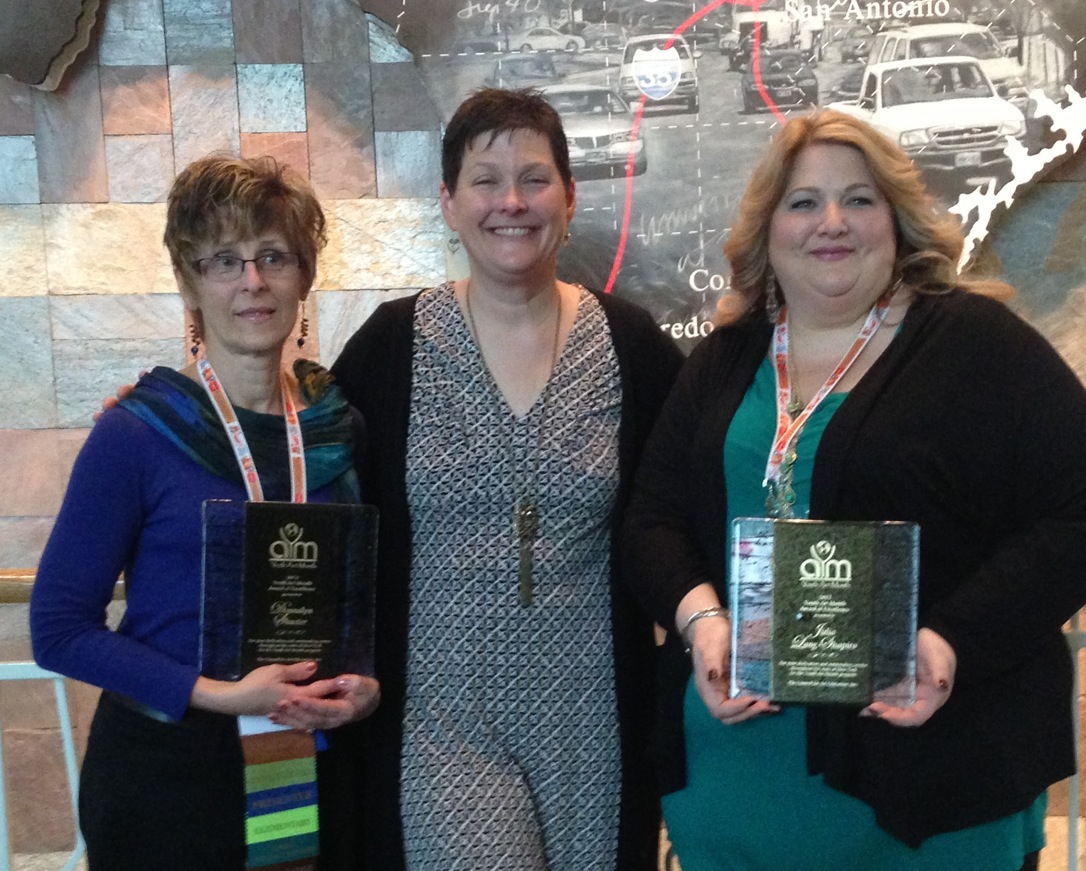 YAM Chairs Julia Lang-Shapiro & Donnalyn Shuster displaying their awards at the NAEA 2013 conference in Fort Worth.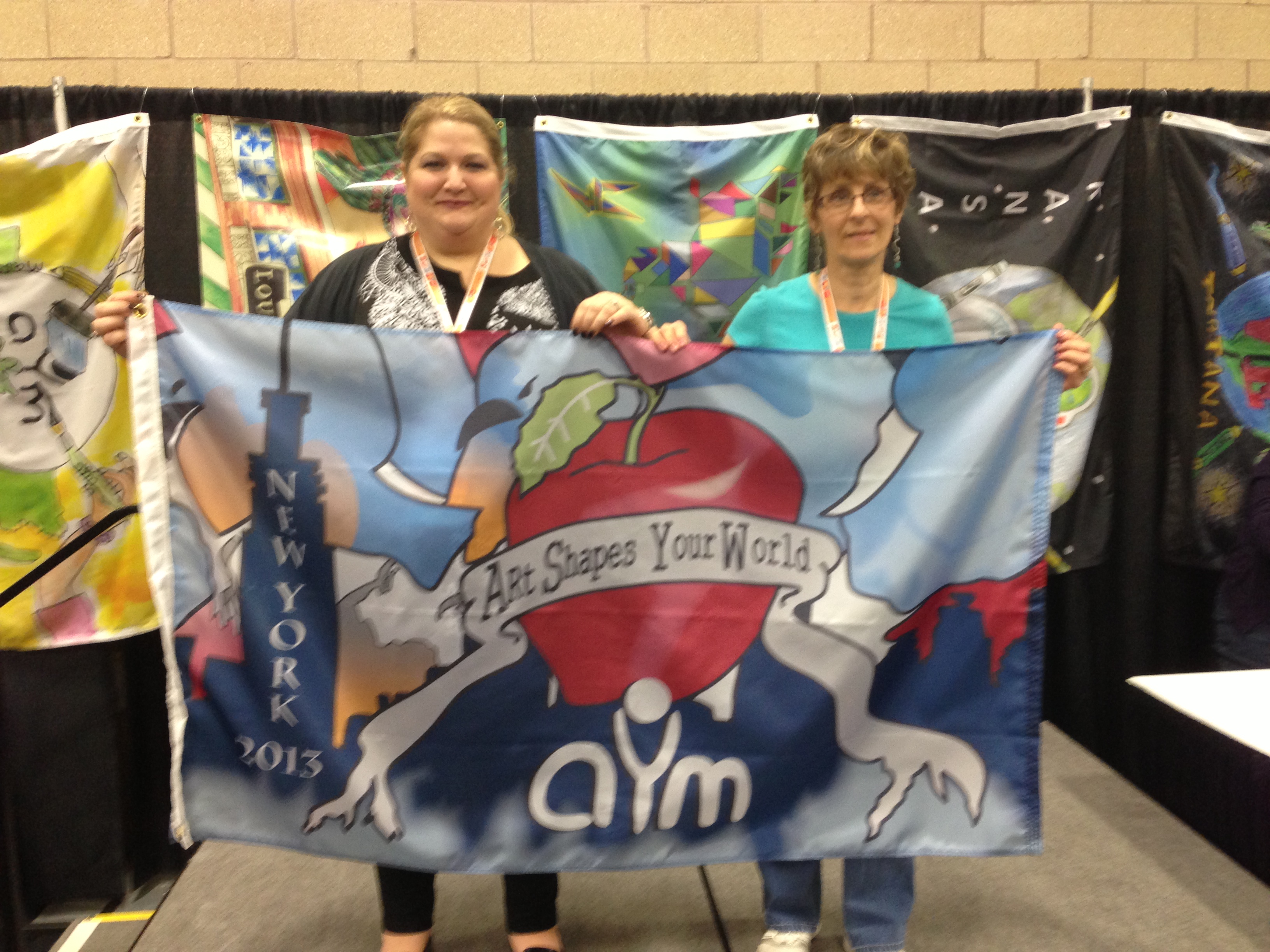 2013 Flag Design created by Quinn Pace from Northport High School.  YAM Co-Chairs with the flag at NAEA 2013.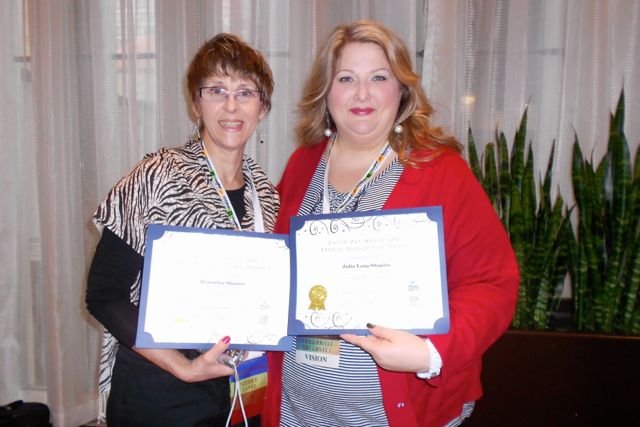 YAM Award Winners at NAEA 2012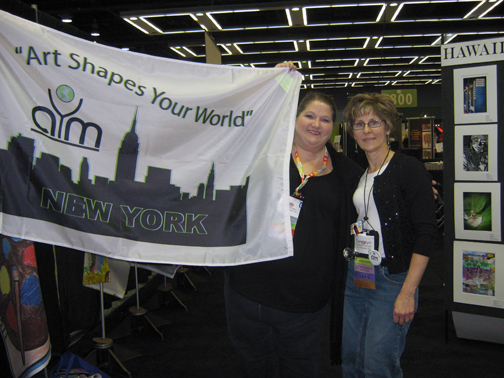 YAM Chairs Donnalyn Shuster and Julia Lang-Shapiro proudly display the first official New York State YAM flag at the 2011 NAEA Conference in Seattle. The flag was designed by K. Bustamante, Sayville HS.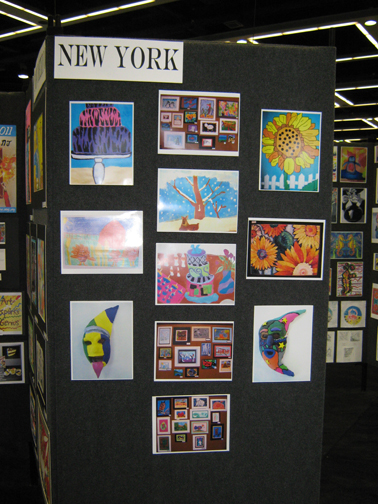 In 2011, New York proudly joined the other 49 states in displaying selected student artwork at the NAEA Conference in Seattle.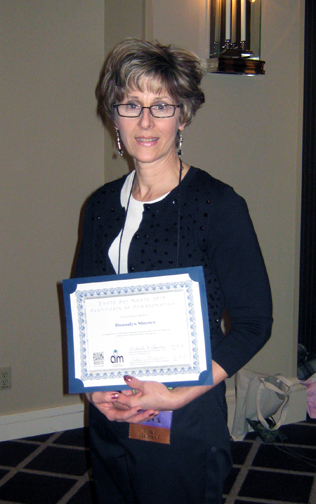 YAM Chair Donnalyn 
  Shuster accepts a
  Certificate of
  Commendation for
  her leadership  
  efforts in New York
  State during the
  2010-11 year.

2017 YOUTH ART MONTH AWARDS at NAEA
Got questions? Contact YAM chairs
Donnalyn Shuster
Heather McCutcheon
Julia Lang-Shapiro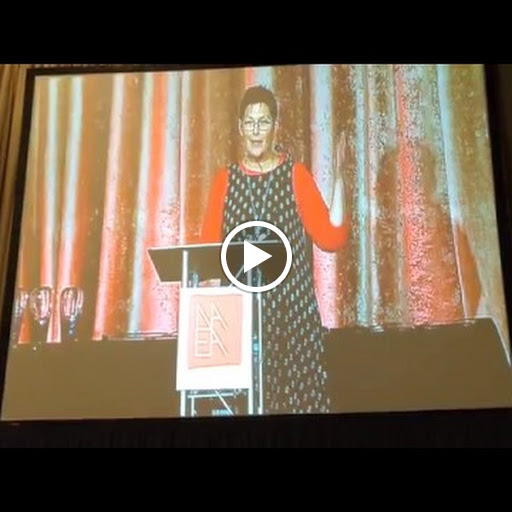 Youth Art Month (YAM)
The 2017/2018 theme is "Building Community Through Art" 
NYSATA IS A PROUD 7th YEAR OFFICIAL SPONSOR OF YOUTH ART MONTH
Thanks to dedicated art teachers like yourself, who are willing to go that extra mile to promote the accomplishments of your students and demonstrate to the community at large the long term value of strong art programs that we continue to maintain our programs during this difficult time in public education.  Because you have given us your Youth Art Month News  for inclusion in our New York State Report it is now in! There were so many great things going on for YAM this year.  Lets make 2017 New York State YAM bigger!!
What is Youth Art Month?
Youth Art Month is an annual observance each March to emphasize the value of art education for all children and to encourage support for quality school art programs.
Started in 1961 by the ACMI (Art and Craft Materials Institute) in cooperation with the NAEA, the program is administered by the  Council for Art Education (CAE) and focuses on the following eight goals:
To direct attention to the value of art education which develops divergent and critical thinking skills; multicultural awareness; and technical, communication and expressive skills.
To increase community, business and governmental support for art education.
To recognize that art is a necessity for the full development of better quality of life for all people.
To expand art programs in schools and stimulate new ones.
To increase community understanding and interest in art and art education through involvement in art exhibits, workshops, and other creative ventures.
To provide additional opportunities for individuals of all ages to participate in creative art learning.
To encourage commitment to the arts by students, community organizations, and individuals everywhere.
To recognize art education as a viable component in the total education curricula that develops citizens of a global society.
Participating is Easy!
As a NYSATA member, you and your students are encouraged to participate in Youth Art Month as a strong advocacy tool for your program! Using our new theme United through ART there are many ways you can demonstrate the value of art education to your district and community at large.
Submit Flag Designs for the New York State Flag by December 16, 2016.
Use our ideas posted here to plan your events.
Submit artwork to the Youth Art Month/Legislative Art Show and attend the opening
Create an art celebration in your community.
Send us documentation of your event using the forms linked above
Submit work to our electronic Web Gallery
Attend our information workshop at Conference or stop by our YAM Booth!
Contact your YAM State  Co - Chairs Donnalyn Shuster , Julia Lang-Shapiro or Heather McCutcheon.
Plan your public relations announcements.
Check our Pinterest and Facebook pages for ideas and the latest news.
Be sure to download and use our new YAM national logos.


Region 3 having fun at the YAM booth!