Commercial
and Institutional Sponsors

Want to reach an audience of art teachers across the state? Advertise in the NYSATA News or on our website!

Visit the Sponsors Page
What's New?
NYSATA News has done it again!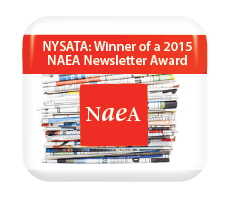 Click on the Image below to access the Winter 2020 NYSATA News.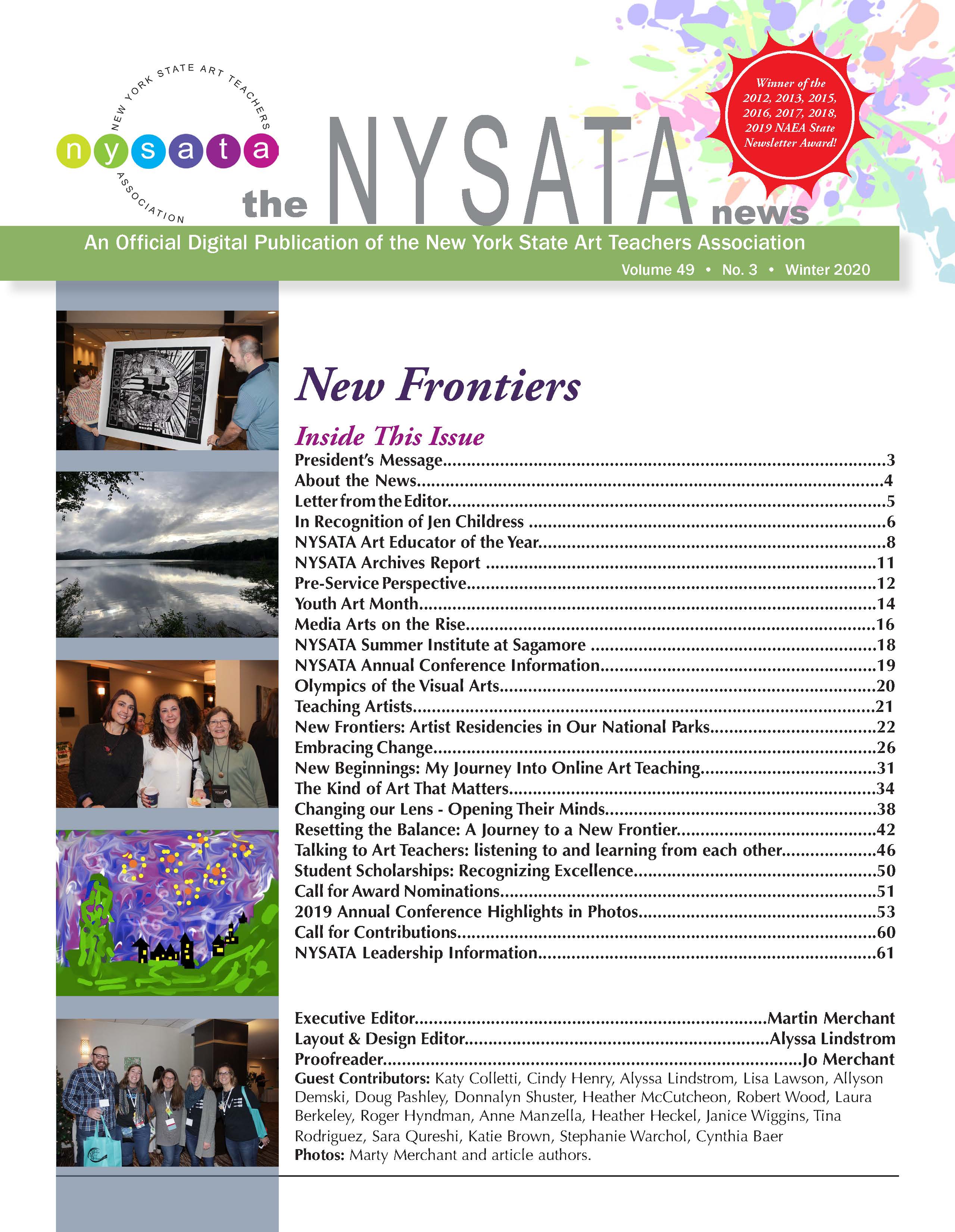 2020 NYSATA News Digital Winter Edition 
NYSATA has an Online Store!
Go to nysata.promoshop.com to order hats, sweatshirts, polo shirts,  and fleece vests with more items to be added. All items have the NYSATA logo embroidered on them. Easy to order, quick minimal cost delivery and if you have questions you can contact the store directly.
News and Events NOW!
Teaching Online in 2020?
Visit our 2020 Resources Page
Calendar
Submit an event by clicking here on Calendar of Events and using the SUBMIT AN EVENT link in the upper right corner of the calendar. Submitted events will be reviewed and added to the NYSATA calendar as appropriate.
Twitter Feed


Welcome
The New York State Art Teachers Association (NYSATA) is a non-profit professional organization founded in 1948 for the purpose of advancing the cause of art education;
By stimulating interest in the study of art in public, private and parochial schools and colleges in the state of New York;
By developing sensitivity to and encouraging participation in the visual art;
By securing wider recognition of the vital importance of education through art;
By encouraging carry-over of school art education into the artistic, social and home life of the individual;
By fostering professional growth and leadership among the members of the organization;
By voicing our concerns with regard to policies and legislation that effect art education.
The New York State Art Teachers Association is made up of 10 Regions. Representatives from these regions, along with the elected officers, form the Board of Trustees which is the governing body of NYSATA.
Members of NYSATA include representatives from pre-school through university level art educators, art administrators, museum educators, school administrators, school districts, commercial representatives, and friends and benefactors.
NYSATA Community
---
Join or renew your membership online NOW!
Need to update your contact information? Use the blue tab at the top of this page to log in with your User ID and Password. Use the MY PROFILE link in the right column on the Member Welcome page to view and/or update your information.
Trouble Logging In? Click here.
Still Having Trouble? Contact [email protected]
NYSATA thanks Blick
our 2019 Platinum Conference Sponsor