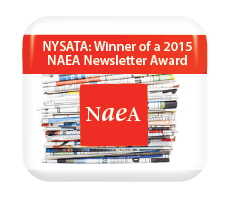 NYSATA News Current Issues
Click on the Image below to access the Winter 2020 NYSATA News.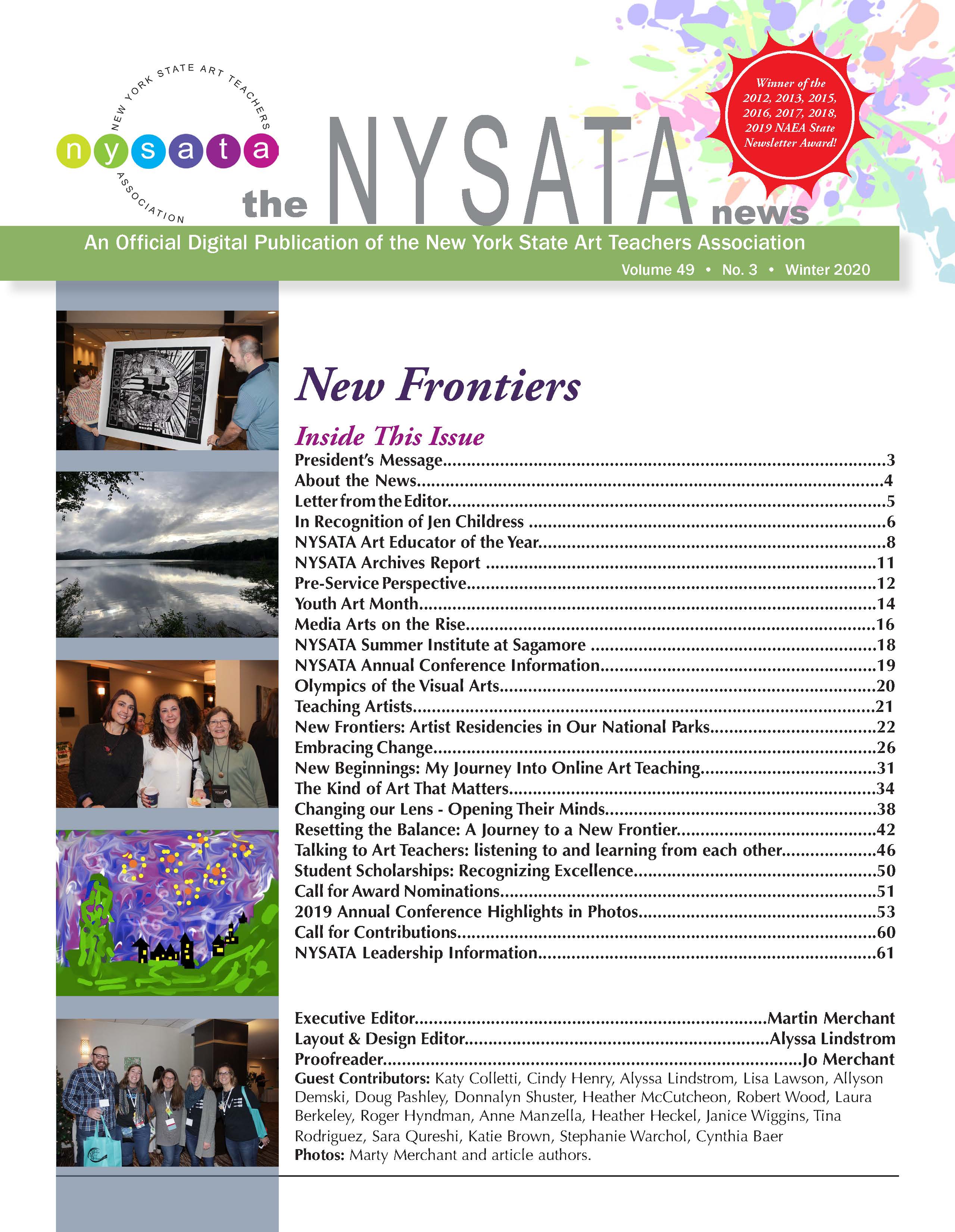 Can't access the Flipbook E-Reader edition?
Click here
for a PDF printable copy.
Previous Electronic Issues
NYSATA makes the digital News available to the public through this site. 1 edition per year is a print-only editions, available to NYSATA members only. If you like the digital news, help support NYSATA's mission to advance art education in New York State by becoming a member.
2019 NYSATA News Conference Edition 
2019 NYSATA News Fall
2019 NYSATA News Spring/Summer
2019 NYSATA News Winter
2018 NYSATA News Spring/Summer
2017 NYSATA News Winter/Spring
2016 NYSATA News Fall/Winter

2016 NYSATA News Spring/Summer

2016 NYSATA News Winter Edition

NYSATA News 2015 Fall

NYSATA News 2015 Spring
NYSATA News 2015 Winter
NYSATA News 2014 Fall
NYSATA News 2014 Conference Edition

NYSATA News 2014 Summer

NYSATA News 2014 Winter/Spring

NYSATA News 2013 Spring/Summer

NYSATA News 2013 Winter/Spring

NYSATA News 2012 Winter

NYSATA News 2011 Late Summer

NYSATA News 2011 Winter

NYSATA News 2010 Summer

NYSATA News 2010 Winter Pages 1-10

NYSATA News 2010 Winter Pages 11-18
If you have trouble downloading files, you may need to update your Adobe Reader. Go to http://get.adobe.com/reader/ to install or update Adobe Reader now. It's free.
Advertising and Sponsorship
Interested in advertising with us?
Visit our SPONSORS page
Twitter Feed

Welcome
The NYSATA News is a publication that contains information vital to the field of art education in New York State. In addition to timely articles, advocacy information and current news about NYSATA initiatives is included. Three digital issues per year are published, along with one print issue (Conference Edition) that is mailed in the Fall.


Inside the Current Issue:
New Frontiers

The new issue of the NYSATA News is now available online!
It seems like it's been more than just the passage of time since our last issue in the fall of 2019. Worlds have collided, our teaching practice has been disrupted, our lives have been changed – challenges we didn't dream of a month ago have changed our world-view and profession. This issue of the News has articles centered on "New Frontiers" – both in our new teaching environment along with other personal and professional boundaries met and crossed. Each issue of the NYSATA News presents real art teachers sharing real situations – real challenges and solutions – where you will find community and inspiration.
Just click on the cover to the right to view our exciting digital version of the Winter Issue of the NYSATA News!
For information on submitting, please email [email protected].
For advertising questions, please email [email protected].

Features ePageView:
Members will be able to click on The NYSATA News, and regardless of their platform/device, they will be able to load, browse, and enjoy dynamic content. The ePageView™ e-reader includes all these great features:
Powerful Imaging: the News can be viewed on your computer (best quality, requires up to date flash plug-in) as well as your ipad, kindle fire, iphone, android, and blackberry devices. Mobile devices do not have the animation feature but will allow you to scroll through the pages as with any e-reader app.
Search: Readers can easily perform full text searches in a single edition or entire publication archive. The search results are highlighted in each page.
Video, Audio, and Link Support: Readers can click on any blue hyperlink to connect to web pages or emails. We are just getting started! Look for video and multimedia content in future issues!
Bookmark: If you think you can only put tabs on printed books, think again! With the bookmark feature, readers can add tabs to bookmark their favorite pages.
Print: print any articles or pages you choose. 
Sticky Notes: Readers will be able to create sticky notes anywhere on a page and view them when they come back to read the News. Readers can easily edit or delete sticky notes at anytime they desire.
Sharing: With the Share feature, they can either email the News they are reading to a friend, as well as post it on HUNDREDS of social networking sites! Facebook, Twitter and Tumblr anyone?
Flexibility: The ability to Download to PDF from ePageView if you prefer reading in traditional format.


Need Help? For assistance with ePageView information can be found at:
http://viewer.epageview.com/help/en-us/application-user-interface_print.htm?MenuState=AQfDpwABAAAlang=en-uslang=en-us