2010 Legislative Exhibit Gallery
Selected Work from the 2010 Legislative Show
The 2010 Legislative Show was organized by the New York State Art Teachers Association in partnership with the NYS Alliance for Arts Education and in collaboration with the NYS Legislators to showcase the artistic achievements of students at the elementary through high school levels. Some students submitted work compatible with an optional theme Who We Are, set up in collaboration with the New York State Middle Schools Association (NYSMSA).
The exhibit was held February 22-26, 2010 with a February 23 opening reception in the "Well Area" of the Legislative Office Building in Albany, NY. Many legislators were present to congratulate and encourage student artists in their district. All students with work shown here completed an artwork release form and an artist's statement to explain their work.
Click on a thumbnail to view larger image with artist's statement.
---
Work by Middle School Students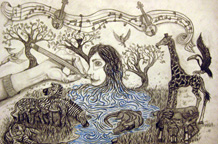 ---
Click Here to return to the Legislative Exhibit Page